The Plastic Surgeon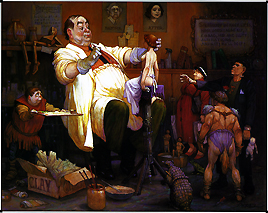 The Plastic Surgeon by Jose Perez
(Oil on Canvas, 24 in x 30 in, 61.5 cm x 77 cm)
Copyright: This image may not be saved locally, modified, reproduced, or distributed by any other means without the written permission of the copyright owners.
---
Society magazines often advertise the fountain of youth promised by plastic surgery, sometimes complete with payment plans and free consultations. To those for whom elective surgery is an option, these promises are often delivered. For those who need reconstructive or therapeutic surgery, the plastic surgeon is a lifeline.
Perez, however, has chosen to satirize those who expect elective miracles. His rotund doctor is half sculptor and half painter, whose patient believes he can turn an old lady into a young model. Similarly, the watchful toad expects to become a prince, the armadillo wants his skin to be as smooth as silk, and Frankenstein longs to look like a beach boy.
---